Available Starting March 2018
Our Newest Ohio Luxury Lodging Accommodation
The Ridgemont
Maximum Occupancy is 16 guests (10 Adults Maximum Occupancy)
Coming soon to Bourbon Ridge Retreat: Our latest take on Hocking Hills luxury lodging.
Welcome to The Ridgemont Lodge, the newest addition to the already captivating estate at Bourbon Ridge Retreat.  We've spared no expense to ensure The Ridgemont is another perfect place to get away. Whether you're in the market for a family vacation, an unmatched location for a small, intimate wedding or are planning a business retreat, The Ridgemont Lodge will provide the ideal accommodations for up to 16 guests. Available beginning March 1, 2018, The Ridgemont Lodge will be sure to impress even the most discriminating high-end Hocking Hills luxury lodge enthusiasts. Make sure to check back often to see this outstanding marriage of custom, environmentally conscious design, custom craftsmanship and peerless luxury take shape.
Although it's under construction, The Ridgemont is already sending chills up and down our spines as we watch this magnificent lodge take shape amid the 202 luxurious acres at Bourbon Ridge Retreat. It's not as expansive as the property's cornerstone – The Maker's Lodge. Yet it's considerably larger than the estate's Hocking Hills luxury cabins. The Ridgemont strikes the perfect sweet spot between the sprawling amenities of a stately manor house and the lavish intimacy of a cozy cabin retreat tucked away in the hills.
The Ridgemont's indoor comforts include:
– Five bedrooms, each with its own smart TV. Three Bedrooms contain King beds and one also contains one set of Twin bunk beds; One Queen Bedroom and One Bunk Bedroom that contains two sets of Twin Bunks.
– Three full bathrooms with tiled, walk-in showers with single vanities and one bathroom with a shower/tub combo
– Custom designed and crafted kitchen featuring high-end appliances
– Exquisitely engineered dining area complete with tailor-made dining table capable of seating 16
– Living area complete with surround-sound equipped smart TV, DVD and gaming console
– Two-sided gas fireplace which provides a view from both the dining and living areas. Let's not forget the many high-end outdoor amenities which accompany this posh example of the finest Hocking Hills luxury lodging available.
The Ridgemont's outdoor luxuries include:
– A 20' x 40', in-ground zero-entry, indoor-outdoor, heated swimming pool open 365 days per year, heated to 84 degrees at no additional cost
– A custom-designed and crafted stone hot tub with LED lighting and body jets, capable of accommodating 16 guests
– An outdoor pool gaming area complete with basketball and volleyball courts, a putting green, a variety of yard games and more
– A tailor-made stone fire-pit
– Custom-crafted outdoor cooking area outfitted with high-end gas grills
– Comfortable poolside loungers, dedicated seating arrangements for dining and a host of additional relaxation options similar to the other Hocking Hills Luxury Lodging and Hocking Hills cabins offered by Ohio Luxury Lodging.
Curious as to how our pool domes will open and close?
Check out the video. From enclosure to open skies in less than 2 minutes! Pool heated to 85 degrees and open 365 days a year.
*Please note, this video is not of the actual Ridgemont pool. Ours will be zero entry, salt water, LED illuminated.
Our commercial grade pools will be oversized, heated & open 365 days a year. Yes, we know they are big!
Our vision of the Interior Kitchen & Dining Areas
Not actual photos of the Ridgemont
In Season Rates – May to October
Weekend Rates –

$1489/night $1289/night

Weekday Rates – 

$1389/night $1189/night
Off Season Rates – November to April
Weekend Rates –

$1389/night $1189/night

Weekday Rates – 

$1200/night $1000/night
Holidays Requirements
Memorial Day
3 nights minimum
Rates are at "In Season, Weekend"
4th of July
3 night minimum
Rates are at "In Season, Weekend"
Labor Day
3 nights minimum
Rates are at "In Season, Weekend"
Thanksgiving
3 night minimum required
Rates are at "In Season, Weekend"
Christmas
2 nights minimum
No check-in / check-out permitted on Christmas
Rates are at "In Season, Weekend" from December 23 to January 3
New Year's Eve
3 night minimum required
Rates are at "In Season, Weekend" from December 23 to January 3
Our reservation system may not quote a discounted price.
We will honor all discounts and apply them before charging your credit card.
IMPORTANT NOTE:
The booking age requirement for the Ridgemont Lodge is 30 years of age. Valid ID may be required upon check-in. We do not rent our facilities for after-prom, high school graduation parties, college formal parties, bachelor/bachelorette and fraternity or sorority parties. All events are subject to approval by owners/management prior to confirmation of a reservation. We do not allow ANY visitors without management approval. Only registered guests (24) for your stay will be given access to the property. Others will be turned away.  No exceptions.
Deposit:
In addition to the rental fees, a $1000.00 security deposit is required for all reservations.
Note: We require the security deposit 30 days prior to your check in date but we will not deposit the check until 7 days before your arrival in order to verify funds. Deposits are usually received back within 5-7 business days after your departure. The security deposit will be conditionally but HAPPILY REFUNDED.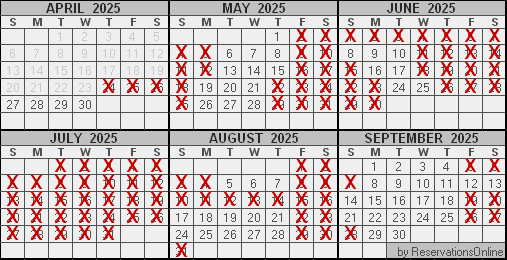 Payment for Ridgemont Lodge:
Advance payment of at least 50% of your stay is required at the time of reservation. Any reservation that is made more than one year in advance only requires 25% down to reserve the dates with an additional 25% due 1 year prior to the check-in date and the remaining balance due 30 days prior to check in. Any balance including the security deposit is due no less than 30 days prior to your stay. Visa, MasterCard, and American Express are accepted. Personal check or bank check are the only form of payment accepted for the security deposit. Extra charges apply for heating of the swimming pool. Quoted prices are subject to change due to changing gas prices – call closer to your stay for details.
Cancellations for Ridgemont Lodge:
Reservations that are cancelled less than 60 days after you book a reservation,  will receive a refund of your prepaid rental fee and security deposit (if already paid), less a cancellation fee of $300*. Cancellations outside of 60 days (from the time you booked) but more than 60 days prior to your stay will receive a 50% refund of your prepaid rental fee and security deposit (if already paid). *There is NO refund of any kind for cancellations less than 60 days prior to your stay. We can offer you alternate dates in our off-season, Sun- Thurs (excluding holidays) should you have to cancel inside 60 days. In the event of an early departure, we cannot give any kind of refund. There are no cancellations due to inclement weather. We do have a large whole house generator that automatically kicks on. Changes to the arrival or departure date are subject to our cancellation policy and/or a $125 change fee. Lessor may cancel this reservation at any time by returning your prepaid amount.
Check-In: Check-In is between 4:00PM – 6:00PM at Ridgemont Lodge where you will be greeted by a member of Hocking Hills Management Company.
Check-Out: Check-Out is by 11:00AM.
Damages: We reserve the right to charge your credit card for any damages or excessive cleaning from your stay. If you notice any problems upon checking in, please let us know right away.
*Reservations that create one night openings during our in-season, will not be accepted unless approved by management.