RATES For Bourbon Ridge Retreat Lodge, a Family Friendly Hocking Hills Lodge
In-Season Rates, 2014/2015
May Pricing Until Memorial Weekend
Weekday Pricing
3-night stay, $1289 per night
2-night stay, $1489 per night
Weekend & Holiday Pricing
$1789 per night, no discounts on weekends/holidays
Check Availability or Make a Reservation Request
Off Season Rates, 2013/2014
After Labor Day - September 30
Weekday Pricing
3-night stay, $1289 per night
2-night stay, $1489 per night
Weekend & Holiday Pricing
$1789 per night, no discounts on weekends/holidays
Check Availability or Make a Reservation Request
In-Season Rates, 2014/2015
June to Labor Day Weekend
Weekday Pricing
3-night stay, $1489 per night
2-night stay, $1689 per night
Weekend & Holiday Pricing
$1789 per night, no discounts on weekends/holidays
Check Availability or Make a Reservation Request
Off Season Discounted Rates, 2013/2014
October 1 - April 30
Weekday Pricing
3-night stay, $889 per night
2-night stay, $1089 per night
Weekend & Holiday Pricing
$1289 per night,
$1789 per night on all October weekends
no discounts on weekends/holidays
Off-Season Special-
Small Family
of 6
or

2 Couples



$599 per night - You get everything the lodge has to offer with the exception that only two bedrooms will be unlocked.

Check Availability or Make a Reservation Request
Notes:
Our reservation system may not quote a discounted price.
We will honor all discounts and apply them before charging your credit card.
Deposit:

In addition to the rental fees, a $1000.00 security deposit is required for all reservations.
Note: We require the security deposit 30 days prior to your check in date but we will not deposit the check until 7 days before your arrival in order to verify funds. Deposits are usually received back within 5-7 business days after your departure. The security deposit will be conditionally but HAPPILY REFUNDED.
Current Availability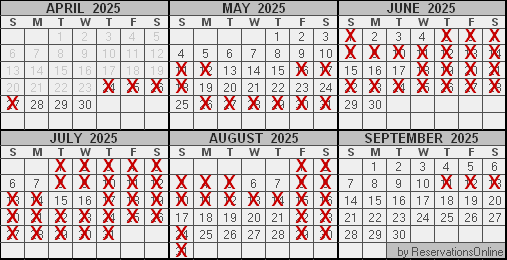 Payment for Bourbon Ridge Lodge:
Advance payment of at least 50% of your stay is required at the time of reservation.Any reservation that is made more than one year in advance, we are only charging 25% down to hold the dates, 25% more due 1 year prior to the check in date and the remaining balance due 30 days prior to check in. Any balance including the security deposit is due no less than 30 days prior to your stay. Visa, MasterCard, and American Express are accepted. Personal check or bank check are the only form of payment accepted for the security deposit. Extra charges apply for heating of the swimming pool. Quoted prices are subject to change due to changing gas prices - call, closer to your stay, for details
Cancellations for Bourbon Ridge Lodge

:
Reservations that are cancelled more than 60 days prior to your stay, will receive a full refund of your prepaid rental fee and security deposit (if already paid) less a 10% cancellation fee. Cancellations less than 60 days, but more than 30 days prior to your stay will receive a 50% refund of your prepaid rental fee and security deposit (if already paid). There is NO refund of any of any kind for cancellations less than 30 days prior to your stay. We will offer you alternate dates in our offseason, Sun- Thurs (excluding holidays) should you have to cancel inside 30 days. In the event of an early departure, we cannot give any kind of refund. There are no cancellations due to inclement weather. We do have a large whole house generator that automatically kicks on. Changes to the arrival or departure date are subject to our cancellation policy and/or a $125 change fee. Lessor may cancel this reservation at any time by returning your prepaid amount.

Check-In

: Check-In is between 4:00pm - 6:00pm at Bourbon Ridge Lodge where you will be greated by a member of Hocking Hills Management Company.

Check-Out

: Check-Out is by 11:00am.

Damages

: We reserve the right to charge your credit card for any damages or excessive cleaning from your stay. If you notice any problems upon checking in, please let us know right away to avoid any damages being charged to your account.
IMPORTANT NOTE: The booking age for BR lodge is 30. Valid ID may be required upon check-in. We do not rent our facilities for after-prom, high school graduation parties, college formal parties, bachelor/bachelorette, fraternity or sorority parties. All events are subject to approval by owners/management prior to confirmation of a reservation.

Reservations that create one night openings during our in-season, will not be accepted unless approved by management.
Holiday Calendar
Had a wonderful time in this beautiful home, it was the perfect place for the perfect family retreat.


Thank you for being so accommodating! - from our Guest Book
For more photos click on the links or images below.
Interior Common Rooms... more info
Bedrooms and Bathrooms... more info
Outdoor Spaces... more info
Check Availability or Make a Reservation Request View Bourbon Ridge Amenity Detail